Liberal Democrat Campaigner Councillor for Chirbury and Worthen Division.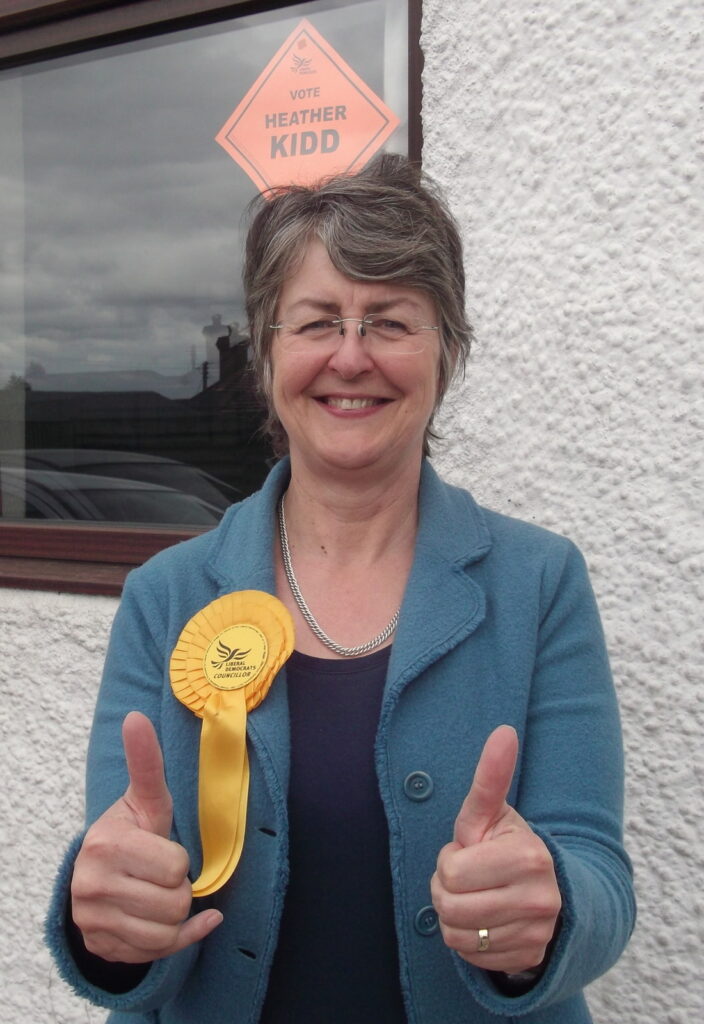 Heather Kidd was brought up in rural West Sussex, coming from a long line of farmers and gamekeepers. She went to the local Comprehensive and then on to study Biology at London University. Having finished her degree she went into teaching in Camden Town, London. Later she became Head of Department back in her native Sussex at Angmering School.
Having married, she left teaching to bring up her 4 daughters moving to South Shropshire when her second daughter was 6 months old. Heather and her husband Trevor went on to have 2 further daughters – both born at the Royal Shrewsbury Hospital. The family have lived here 30 years, with all the girls attending Chirbury Primary School and The Community College, Bishop's Castle where Heather taught Science and Rural Science for a number of years.
Heather and Trevors' daughters all live locally. Two are now married. Her eldest daughter is a Staff Nurse at the Orthopaedic Hospital on the High Dependancy Unit in Gobowen. Heather middle two daughters work for a Planning Consultancy and the fourth work in a School Office.
She has three young grandchildren: Asa, Asher and Marni.
In 1996, She was elected to South Shropshire District Council and her career in politics began. She rapidly became interested in housing and a few years later she helped initiate the affordable housing policies we have today. She became Leader of the Council in 2003 and really put South Shropshire and its innovative services and policies on the map. This experience has given her a real insight into the dynamics and problems of small rural communities today.
She was Elected to Shropshire Council in 2009 and re-elected with 81% of the vote in 2013. And re-elected in 2017 with a very similar vote – 78%!
Heather's CV
Joined Liberal Democrats in December 1996
Elected to South Shropshire District Council, member for Chirbury, December 1996
Chair of Health and Housing, 1998- 2001
Ludlow Constituency Executive 1998 to present
Chairman of Constituency Party 2000 – 2003 (to include Election of Matthew Green MP)
Joint Leader of Council 2001, SSDC
Leader of Council 2003, SSDC until May 2007
Lib Dem member of National LGA Housing Executive, June 2003 to 2005.
Lib Dem member of National LGA Regeneration and Transport Board, 2006 to present.
Delivered, canvassed (doorstep and phone) and many other things for General Election 2001 for Election of Matthew Green, various by-elections and 2 District Council Elections. Helped with SABC elections and in Dudley. Delivered and canvassed in South Staffs. Parliamentary Election and delivered in south Wales bi- election. Agent for Worthen By-election. Tim Watson elected.
In addition attended Autumn Conference 2002, Spring Conference Manchester 2002, Torquay 2003, and Southport 2004. Autumn Federal Conference in \Brighton 2006. Various Regional Conferences in the West Midlands and also for the South West Region speaking on affordable housing.
Took part in Housing Policy debate in 2002 Conference. Presented an Affordable Housing Fringe in Brighton 2006
Spoke in Rural affairs policy debate in Brighton 2006
She took part in re-formulating the Parties policy on Local Government, which is to come to Conference this autumn.
Took part in and informed 'Power Actually' and in the Local Government Conference in Birmingham June, 2007
Campaign Organiser for the County Elections in 2005 – we held all south Shropshire seats and gained the new Ludlow and Stottesden seat. Lost one Bridgnorth seat.
Accredited Peer mentor for the IDeA (the Improvement and Development Agency), which goes into Councils to help them improve their service delivery and general working. She is there as a Liberal Democrat and is at present working with Eden District Council in Cumbria on their Affordable Housing.
As a Liberal Democrat, Heather is on the People and Places Board ( The rural Board) for the Local Government Association (LGA) and is the group leader at present.
She has also Chaired the Rural Policy Group for the Federal Policy Committee of the Liberal Democrats.